The decision of the ACC, Big 12, and SEC to move to either conference-only or conference-only plus-one schedules removes the opportunity for major conference teams to pad their win totals with games against lower FBS or FCS opponents in 2020. This will cause some records to be ugly, and could place multiple coaches on the hot seat. Let's face it, a 7-5 season and bowl berth padded by 4 non-conference wins against lesser opponents sits a lot better with the boosters than a 3-7 or 4-6 record playing a conference-only schedule.
Which coaches could find themselves on the hot seat after this season – and on a more positive note, which coaches could coach themselves into a contract extension or opportunity at a bigger job? Check out our list of the 4 most overrated and 4 most underrated teams heading into the 2020 season.
As a reminder, if you missed Parts 1-3 of The Common Room 2020 College Football Preview breaking down conference races, playoff predictions, and the top games of the season, make sure to check them out too.
Most Overrated Teams of 2020:
Tennessee Volunteers
Projected Record – 4-6, 3-3, 4th place SEC East
Wins – South Carolina, Missouri, Kentucky, Arkansas
Losses – Georgia, Alabama, Texas A&M, Auburn, Vanderbilt, Florida
Expect Tennessee to be the story of the first half of the season, as the Vols race out to a 3-1 start and likely top-15 ranking before the wheels fall off during a much more difficult second half of the season that results in Tennessee dropping five of the last six games, including a loss at Vanderbilt (who extend their recent dominance of the Vols, somehow taking 3 of the last 4 in the series). The deflating end to the season will ratchet up the temperature on Jeremy Pruitt's seat and eliminate the goodwill he gained from a strong finish last year. Tennessee is possibly the team hurt worst by the SEC-only schedule, as they now have SEC West crossover games against Alabama, Texas A&M, and Auburn, in addition to Arkansas, to go along with their annual SEC East matchups against Georgia and Florida. Tennessee has some talent on the roster, but inconsistent quarterback play will prove to be their undoing, as neither 5th year senior Jarrett Guarantano or sophomore Brian Maurer – the two best of the four quarterbacks the Vols played last year – have inspired much confidence in their performance on the field. The old saying that if you have two quarterbacks, you have no quarterbacks always seems to ring true, and expect a quarterback controversy to plague the Vols all season. The quarterback situation won't be helped by another season of poor offensive line play, as Pro Football Focus graded the Volunteers 124th of 130 FBS teams in pass-blocking last season. Though there is experience returning with guards Trey Smith and Georgia transfer Cade Mays, the Vols will face some of the toughest pass rushes in the nation against Alabama, Georgia, Florida, and Texas A&M.
Auburn Tigers
Projected Record – 6-4, 3-3, 4th place SEC West
Wins – Kentucky, Arkansas, South Carolina, Ole Miss, Mississippi State, Tennessee
Losses – Georgia, LSU, Alabama, Texas A&M
Auburn is another team with a difficult end to the season, as they are projected get off to a 6-2 start with losses to Georgia and LSU before dropping the last two games at Alabama and against Texas A&M. In many ways, taking a look at Auburn's schedule makes a 6-4 season this year feel reasonable. After all, the Tigers have a promising but still-young quarterback in sophomore Bo Nix and need to replace a ton of talent, as six Tigers were selected in the 2020 NFL Draft, including 2 first round picks from the defense. That being said, a 6-4 season coming off of a preseason #11 ranking will be viewed as a failure by the passionate fan base, and look for discussions on the size of Gus Malzahn's buyout to dominate talk radio in Alabama, as they seem to be every other year.
Texas Longhorns
Projected Record – 6-4, 5th place Big 12
Wins – UTEP, Texas Tech, TCU, Baylor, West Virginia, Kansas
Losses – Oklahoma, Oklahoma State, Iowa State, Kansas State
Is Texas back? That seems to be the question each year, as the Longhorns start another year attempting to find the success to match their talent level that has eluded them over the past decade. On paper, Texas should be better than 6-4, as their five year recruiting class aggregation is ranked seventh, and they return preseason first-team all-Big 12 quarterback Sam Ehlinger and nine starters on defense led by linebacker Joseph Ossai. However, the Longhorns must replace a ton of production at the wide receiver position, with Devin Duvernay (106 catches for 1,386 receiving yards) and key red zone target Collin Johnson departing for the NFL. Additionally, Texas must replace two starters on the offensive line and defensively, will need time to settle in and find the right personnel as they change from a 3-4 to 4-3 defense under new coordinator Chris Ash. However, talent has never been the issue with Texas, but until they prove they have the discipline and mental edge to match their talent, they can't be trusted to win games against a more talented Oklahoma team in the Red River Rivalry, on the road against Oklahoma State or Kansas State (just ask Oklahoma how tough it is to win in Manhattan), or against a tough, disciplined Iowa State team who beat them last year. Tom Herman was hired with much fanfare and has a massive contract, but that Sugar Bowl win over Georgia feels further and further away.
Florida State Seminoles
Projected Record – 6-5, T-6th place ACC
Wins – Georgia Tech, Jacksonville State. Pitt, NC State, Virginia, Duke
Losses – Miami, Notre Dame, North Carolina, Louisville, Clemson
The only thing keeping Texas from being the poster child for underachievement in recent years is Florida State, which posted losing seasons the past two seasons under now-fired head coach Willie Taggart for the first time since 1976. The Seminoles are another team with unquestionable talent, but since late in the Jimbo Fisher era, have lacked focus and discipline while being hamstrung by poor offensive line play. The Deandre Francois injury in the 2017 season opener against Alabama, during a game he had been beat up by the Tide defense from the first snap, was a harbinger of things to come, as since then, the Seminoles have been unable to find consistency on the offensive side of the ball. In fact, Pro Football Focus ranked the Seminoles 129th of 130 FBS teams in offensive line play, as in 2019, Florida State "gave up the 11th-most pressures, the fourth-most sacks, the fourth-most hits and the second-most combined sacks and hits this year. Their 10.5% sack+hit rate ranked fifth in the country, and their allowed pressure rate of 25.9% was the 20th-highest". Ouch. New coach Mike Norvell was the hot name on the market after his success at Memphis, but those struggles from the past two years aren't going to be fixed overnight, and he has also had to weather two locker room crises before even coaching a game, as players criticized him for his outreach around the BLM protests and also for his staff's adherence to coronavirus safety protocols. FSU has a tough start to the season with games against Miami, Notre Dame, North Carolina, and Louisville in the first half of the season, but if Norvell can keep the locker room together after a 2-4 start, and if QB James Blackmon stays healthy, and if the offensive line can play at least average football, the Seminoles are the one team on the overrated list with a chance to finish strong and take momentum into 2021, as they should close with a 4-1 stretch with wins over Pitt, NC State, Virginia, and Duke, while only dropping a game to Clemson.
Most Underrated Teams of 2020:
Iowa State Cyclones
Projected Record – 9-1, 2nd place Big 12
Wins – LA-Lafayette, TCU, Oklahoma, Texas Tech, Kansas, Baylor, Kansas State, Texas, West Virginia
Losses – Oklahoma State
Many preseason publications are sleeping on Iowa State because let's face it, the Cyclones are not a sexy name and they don't play the most exciting brand of football. However, a look at the schedule and personnel reveals a team poised to break out for the best season in school history, one that nets the Cyclones the Big 12 regular season championship. Iowa State returns a dynamic, experienced quarterback in junior Brock Purdy, along with a shify running back, sophomore Breece Hall, who should build on a freshman season in which he averaged over 100 yards per game. Though only two starters return on the offensive line, there are talented replacements ready to step up, as Athlon Sports pointed out that Matt Campbell believes ISU "hit" on its last three offensive line classes. Preseason all-Big 12 first team tight end Charlie Kolar is a matchup nightmare, and anchors a unique and hard to defend passing attack, which relies heavily on a trio of big tight ends. The Cyclone defense figures to be among the best in the Big 12, with nine returning starters and a veteran coordinator in Jon Heacock. Remember too, this is a Cyclones team that last year lost its five regular season games by a total of 22 points, losing by 1 to Oklahoma and Iowa and by 2 on a last second field goal against top-ten team Baylor. The 2020 schedule also sets up well, as the Cyclones get Oklahoma in Ames early in the season on October 3rd before freshman quarterback Spencer Rattler has had a chance to settle in for the Sooners. A road trip to Stillwater against Oklahoma State figures to be the one blemish, but Iowa State will rebound and win its final five games, highlighted by a win against Texas in Austin. With a talented quarterback, veteran defense, strong coaching staff, and favorable schedule – bet on the Cyclones.
Texas A&M Aggies
Projected Record – 9-1, 5-1, 2nd place SEC West
Wins – Vanderbilt. Florida, Mississippi State, Arkansas, South Carolina, Tennessee, Ole Miss, LSU, Auburn
Losses – Alabama
The prevailing opinion in sports media is that Texas A&M backslid to an 8-5 record last year, but the Aggies played a historically brutal schedule, with all five of their losses coming to top-15 teams, including three coming against teams ranked #1 at game time (a first in AP poll history). The Aggies lost at Clemson, at Georgia, and at LSU, and also dropped games against fellow SEC West rivals Alabama and Auburn. That experience will serve the Aggies well, and they boast twenty (!) returning starters, with another fourteen players in reserve who have started at least one game in their college career. Oh, and they also had the fourth and sixth ranked recruiting classes in 2019 and 2020, respectively. Senior quarterback Kellen Mond enters his third season as the starter and is arguably the top quarterback in the entire SEC, running back Isaiah Spiller and wide receiver Jhamon Ausbon headline a strong skill position group, and the defense, led by first team all-SEC defensive tackle Bobby Brown, may be the best in the SEC. The schedule also sets up favorably for the Aggies, as they avoid Georgia in a cross-divisional matchup and get Florida and LSU in College Station. A trip to Tuscaloosa on October 3rd looms as the only projected loss, but the Aggies should close the season on an eight game winning streak and be very much in the discussion for the fourth seed in the College Football Playoff.
Louisville Cardinals
Projected Record – 9-2. T-3rd place ACC
Wins – Western Kentucky, Miami, Georgia Tech, Florida State, Virginia Tech, Virginia, Syracuse, Boston College, Wake Forest
Losses – Pitt, Notre Dame
Louisville took a major step forward last season in the first year of the Scott Satterfield era, going 8-5 and finishing second in the ACC Atlantic Division. The Cardinals' 2019 performance was a significant improvement from the 2018 disaster in which they went 2-10 (and winless in the ACC), which resulted in Bobby Petrino being fired. Satterfield took a team that was never short on talent and instilled an emphasis on discipline and improved fundamentals. In Year 2 under Satterfield, the Cardinals should take even another step forward, as quarterback Micale Cunningham returns as the starter. Cunningham, who set the Louisville record for passing efficiency in 2019 (and that school has had some great quarterbacks), will have the luxury of distributing the ball to perhaps the best collection of skill position talent in the ACC. This group is headlined by speedster Tutu Atwell, who set the school record for receiving yards in 2019 and tied the school record for touchdowns. Javian Hawkins also returns at running back after running for over 1500 yards in 2019. Louisville's weakness is on the defensive side of the ball, as the Cardinals ranked 12th in the ACC last season and gave up more than 500 yards six times. Louisville will be able to outscore most teams and avoids both Clemson and North Carolina on the ACC schedule this season, but the Cardinals will run into trouble against the only two defenses they play capable of slowing down their offense, dropping road games at Pitt and Notre Dame. Still, finishing with a 9-2 record and closing the year on a six game winning streak will represent another step forward for an up-and-coming program eager to put the 2018 clunker in rearview mirror.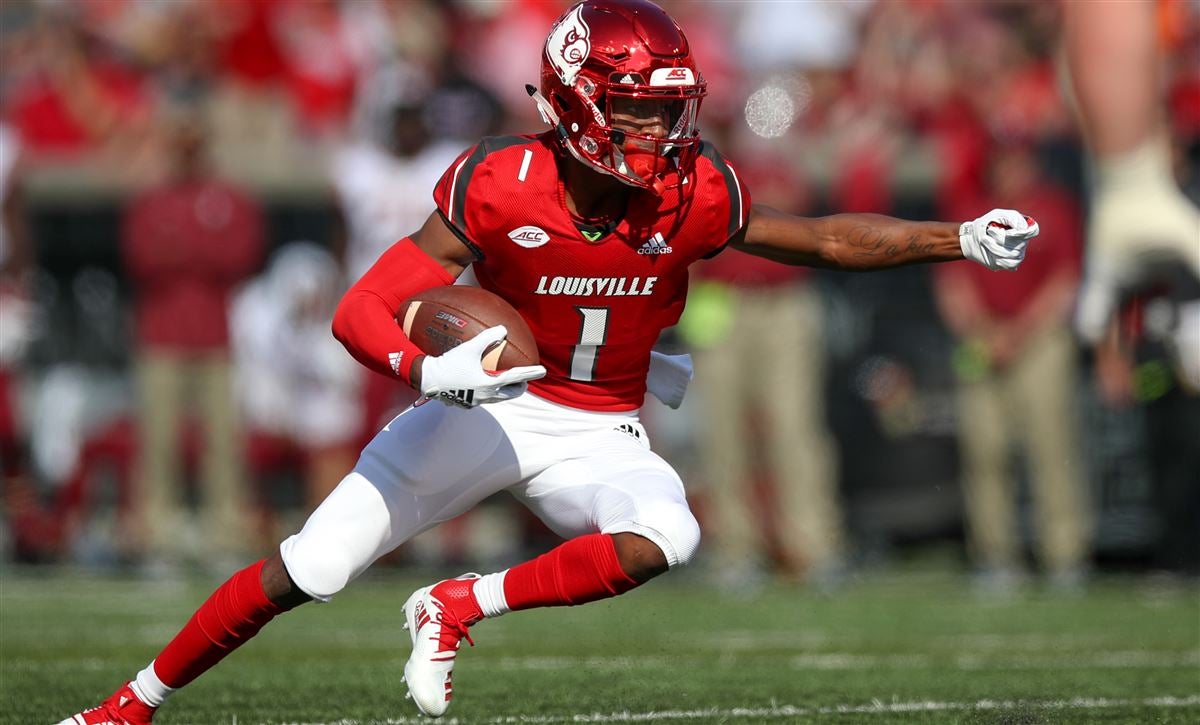 Miami Hurricanes
Projected Record – 8-3, 5th place ACC
Wins – UAB. Florida State, Pitt, Virginia, NC State, Georgia Tech, Wake Forest, North Carolina
Losses – Louisville, Clemson, Virginia Tech
The swagger has been missing from Miami in recent years, as since the 2017 victory over Notre Dame that had College Gameday proclaiming the Canes were back, Miami has posted a mediocre 14-15 record. That two-plus year stretch has featured a rotating door at quarterback, poor offensive line play, and an overall sloppiness and lack of discipline. However, the Hurricanes should solve at least the quarterback position in 2020, with Houston transfer D'Eriq King taking the reins. King, who may be the most high profile player to take advantage of the four game transfer rule, opted to sit out the last eight games of 2019 after Houston got off to a poor start. Many have forgotten how good he was in 2018, as he accounted for fifty total touchdowns and led the Cougars to a Sugar Bowl berth. King wasn't the only impact transfer that Miami head coach Manny Diaz landed, as the Canes also brought in arguably the best pash rusher on the transfer market in Quincy Roche, who had 13 sacks in 2019 at Temple. However, just as importantly, Miami landed King's former Houston left tackle, Jarrid Williams, who should help anchor an offensive line that ranked 110th in 2019 pass-blocking grade (of 130 teams) and allowed the eighth-most pressures of any FBS team. Consistent quarterback and steady offensive line play will allow the Canes offense to grow as the season progresses. Miami will start 2-2, with road losses at Louisville and Clemson, but will finish on a 6-1 tear, highlighted by an upset of a 9-1 North Carolina team in the last week of the season.