Last week's record: 5-1 (SU), 5-4 (ATS)
In Week 3 of the 2020 college football season, most of the ACC takes the field while the American joins the season's action too. Every Big 12 team except Oklahoma State has a bye, and those Big 12 teams are joined by the also-idle SEC in watching this weekend's action before resuming play next week. College football's biggest news this week was delivered by the Big 10, though, with the nation's oldest conference announcing a stunning reversal of their decision to cancel the fall football season. The Big 10 will return to action on October 24th and play nine games in nine weeks. The other major conference to cancel the fall football season, the Pac-12, is also rumored to be reconsidering its decision. Commissioner Larry Scott said this week that the biggest blocker to the conference returning was regulations posed by the governors of California and Oregon on sports amid the Covid-19 pandemic, but Gov. Gavin Newsom and Gov. Kate Brown released statements affirming that college football could still be played under their states' regulations.
Fresh off a Week 2 that featured a number of exciting games, despite the sloppy play, coupled with the decision of the Big 10 to play a fall season and the new technology announced by the Pac-12 in partnership with Quidel Corporation to allow rapid, daily point-of-care Covid-19 antigen tests, the 2020 college football season finally seems to have some wind in its sails. On that optimistic note, let's turn our attention to the biggest games of Week 3.
Syracuse at #25 Pitt
When: 12pm EST
Line: Pitt -21.5
Over/Under: 50
Analysis: These two teams enter this game coming off drastically different performances last week, as Pitt is fresh off a 55-0 win over Austin Peay where the Panthers so dominated the first half that the teams agreed to play 10 minute quarters in the second half, while Syracuse entered the fourth quarter at #12 North Carolina trailing only 10-6 before giving up 21 points in the quarter to lose 31-6. Pitt entered the year with one of the best defenses in the ACC, even with the decision of star defensive lineman Jaylen Twyman to opt out, but questions about whether the offense could take the next step under second-year offensive coordinator Mark Whipple and quarterback Kenny Pickett. On the flip side, the Orange entered the season with playmakers at the skill positions and a returning quarterback in Tommy DeVito, but an offensive line that according to Pro Football Focus (PFF) allowed pressures on 23% of all pass-blocking snaps while ranking 107th in run blocking. That trend continued into 2020, as against North Carolina, the Orange only ran for 68 yards on 1.9 yards per carry while allowing 7 sacks. Pitt wins this game handily, but the Orange defense, which forced three turnovers against North Carolina, can slow down Pitt's offense enough to cover the spread and keep this one under 50 total points. Take the points and the under.
Pick: Syracuse +21.5, Under 50
Score Prediction: Pitt 30 Syracuse 13
Boston College at Duke
When: 12:00pm EST
Line: Duke -6
Over/Under: 51.5
Analysis: Though the Blue Devils lost 27-13 at Notre Dame last week, they enter this week with confidence, as they hung tough with the Irish and only trailed by four points heading into the fourth quarter. Boston College meanwhile plays their first game of the season and this week, Notre Dame transfer Phil Jurkovec was named the starting quarterback. Defensive end Chris Rumph anchors a strong Duke defense, and though Jurkovec will make some plays, Boston College does not have enough playmakers to challenge Duke's underrated secondary, giving the defensive line time to bring pressure. Duke's offense isn't great, but QB Chase Brice and RB Deon Jackson will find a way to get in the end zone late in the fourth quarter to secure the win. Points will be at a premium in this game with two quarterbacks who are talented but short on starting experience. Take the under.
Pick: Under 51.5
Score Prediction: Duke 24 Boston College 17
South Florida at #7 Notre Dame
When: 2:30pm EST
Line: Notre Dame -25.5
Over/Under: 48
Analysis: Notre Dame pulled out a tougher-than-expected 27-13 win over Duke in the opener last weekend, but the story of the game centered around the disappointing performance of senior quarterback Ian Book and the vaunted Irish offensive line. Notre Dame has a chance to rebound against USF, who beat The Citadel 27-6 in an ugly game last weekend, as the Bulls do not have the talent to match up against the Irish for four quarters. In contrast to the offense, Notre Dame's defense played well last weekend, and they will limit USF's scoring opportunities and give the ball to the Irish offense in good field position. Bank on Book, running back Kyren Williams, and wide receiver Braden Lenzy, who returns this weekend from injury, to turn in a strong performance and lead Notre Dame to a four touchdown win in their only non-conference game of the season. Give the points with the Irish.
Pick: Notre Dame -25.5
Score Prediction: Notre Dame 38 South Florida 10
#14 Central Florida at Georgia Tech
When: 3:30pm EST
Line: Georgia Tech +7.5
Over/Under: 62.5
Analysis: This game represents the best money-making opportunity of the weekend, as before Georgia Tech's surprising win over Florida State last weekend, this line likely would have been at least 11 points. As discussed in this week's First and Ten, Georgia Tech is only one year and one game removed from running the triple option, and the Yellow Jackets do not have a roster equipped to compete week in and week out with stronger teams, making their win against Florida State last weekend all the more shocking. In addition to being the more talented team, UCF and star quarterback Dillon Gabriel enter the season with higher hopes than just an American conference championship, and in a year without many non-conference games, this weekend marks the Golden Knights' only chance to impress the CFP committee with a non-conference victory. Expect the Knights to come out fired up, as in addition to this being the UCF's only non-conference game, Georgia Tech is a common opponent for the Knights with both Clemson and Notre Dame, and a potential measuring stick game in the playoff discussion. Give the points.
Pick: Central Florida -7.5
Score Prediction: Central Florida 45 Georgia Tech 20
#23 Appalachian State at Marshall
When: 3:30pm EST
Line: Marshall +5.5
Over/Under: 59.5
Analysis: Appalachian State meets Marshall in one of the sneaky good games of the weekend, as the Mountaineers are picked to contend for the Sun Belt title (and ask the Big 12 about how good the Sun Belt is), while the Thundering Herd are one of the top teams in Conference USA. The Mountaineers are quarterbacked by Zac Thomas and have a strong wide receiving corps and offensive line, and that experience on offense will give them the edge after they had a chance to shake off the rust in a lethargic 35-20 win last week over Charlotte. Marshall looked impressive in beating FCS Eastern Kentucky 59-0 on Saturday, but Appalachian State presents a much different challenge to redshirt freshman QB Grant Wells in his second start, with Mountaineer standouts on all three levels of the defense. App State ran for over 300 yards last weekend, and expect that strong rushing attack combined with the play action pass to carry them to the win. Give the points.
Pick: Appalachian State -5.5
Score Prediction: Appalachian State 34 Marshall 28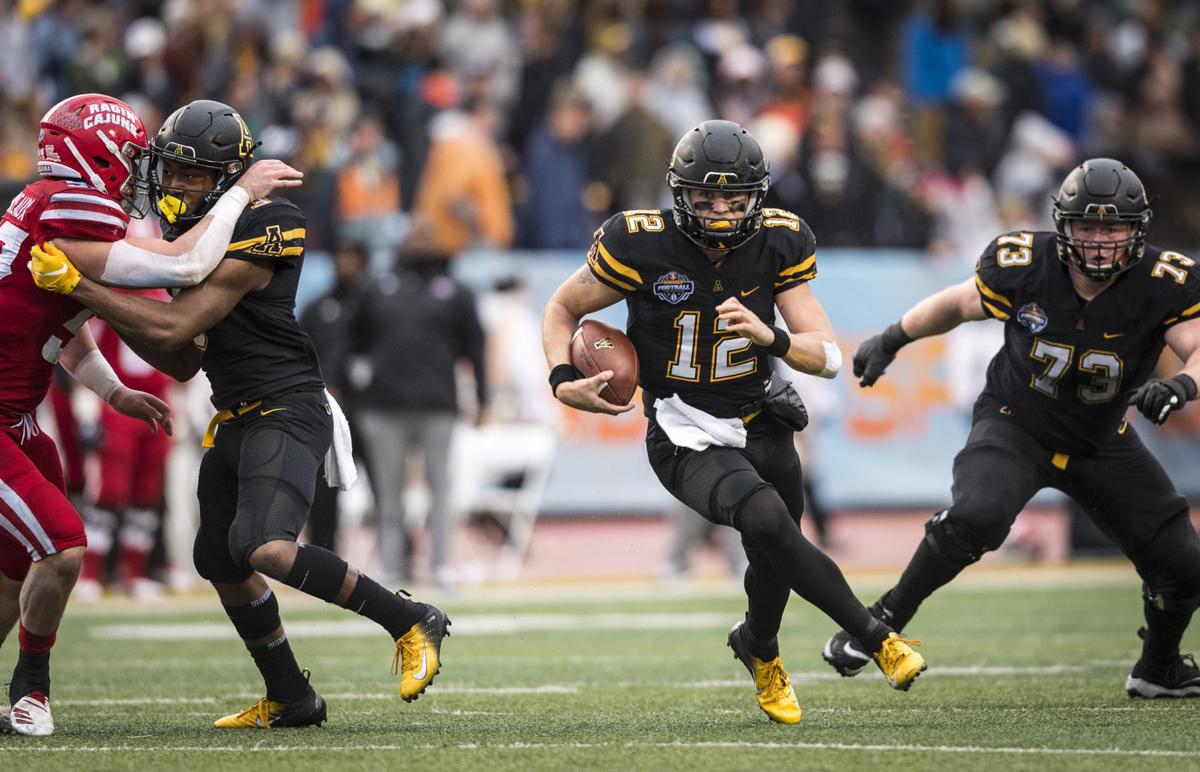 #17 Miami at #18 Louisville
When: 7:30pm EST
Line: Louisville -2.5
Over/Under: 64.5
Analysis: The most exciting game of the weekend on paper, this matchup features two dynamic quarterbacks, with Louisville's Micale Cunningham facing off against Miami's D'Eriq King, who was impressive last week in his first game in a Miami uniform after transferring from Houston. Both Louisville and Miami racked up quality victories last week against strong Conference USA teams Western Kentucky and UAB, respectively. Cunningham and King are also each surrounded by dynamic playmakers on the outside, with Louisville WR Tutu Atwell and Miami TE Brevin Jordan both appearing on the preseason first-team all-ACC list. Additionally, each team boasts a strong running game, with Louisville's Javian Hawkins returning at running back after rushing for over 1,500 yards last season, and Miami's Cam'Ron Harris bursting on the scene with 134 rushing yards and two touchdowns against UAB. This game figures to be a high scoring, back and forth affair that can go either way, and the Cardinals will find a way to make one more stop at home and win a wild one over the Canes. Give the points and take the over, as each team's offense is stronger than the opposing defense.
Pick: Louisville -2.5, Over 64.5
Score Prediction: Louisville 42 Miami 38